and what happens! Just "waking up" to the stunner of a trade..
(It has to be that injection at the dentist today-because a tooth needed pulling)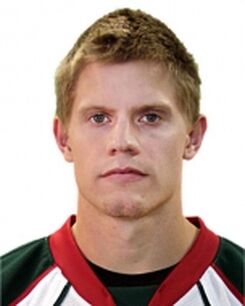 Jeff Penner

Anton Khudobin for one man (in America)
Jeff Penner, 23 (4/13/87), has posted 19 points (5-14=19) and is a plus-10 in 57 games with the AHL's Providence Bruins this season. The 5-foot-10, 185-pound defenseman from Steinbach, Man., notched a career-high 35 points (7-28=35) in 68 games with Providence in the 2009-10 season. He made his NHL debut with Boston on March 9, 2010, at Toronto. Penner, originally signed by Boston as an undrafted free agent, played one season of collegiate hockey at Alaska-Fairbanks.


Mikko Lehtonen

and one man (still skating in far off Europe): Lehtonen, 23 (4/1/87), ranks second in the Swedish Elite League in scoring this season, racking up 56 points (29-27=56) in 52 games with Skelleftea. The 6-foot-3, 196-pound winger from Espoo, Finland, spent two seasons with AHL Providence (2008-10), posting 103 points (51-52=103) in 150 games. Lehtonen participated in the AHL All-Star Game in 2010. He played two games in Boston, including his NHL debut on April 11, 2009, at Buffalo. Lehtonen represented Finland in both the 2005-06 and 2006-07 IIHF World Junior Championships. He was Boston's third-round pick (No. 83 overall) in the 2005 NHL Entry Draft.
AS If Endras wasn't enough, who also still skates over there!
To Anton Khudobin-Dosvidanya or something like that...and the best of luck!
So now I better change my photo spread atop this blog to ???
Josh Tordjman... in red hot pads! Or ?? Any suggestions by chers readers?

Anton Khudobin

Josh Tordjman

Darcy Kuemper
Matt Hackett

Dennis Endras